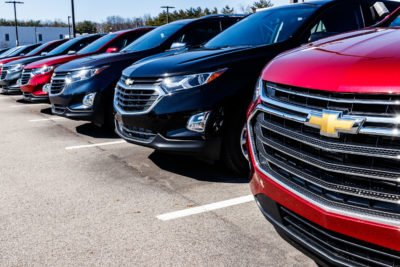 GM Financial Review 2020
Cashback, 3 years ago
0
5 min

read
803
GM Financial is a company backed by relationships and the long-standing reputation of the General Motors Corporation.
It is a global provider of auto finance solutions. GM Financial is headquartered in Fort Worth, Texas, and it is a wholly-owned subsidiary of General Motors.
GM Financial offers vehicle financing solutions to consumers through various dealerships worldwide as well as lease programs for individuals and businesses.
This GM Financial review will help you decide if it's the right solution for you.
Table of Contents:
How Does GM Financial Work?
Pros & Cons
How Much Can You Borrow?
What is the APR?
Are there any fees?
Is GM Financial for You?
How Does GM Financial Work?
You can apply for GM Financial online. They have an application on their website that guides you through all of the information they need to get you approved.
First, enter the details regarding the vehicle you want to buy, including the year, make, model, and trim level.
Then enter personal information about yourself, including your name, contact information, address, and work information.
Next, you'll pick a dealership near you where you would like to find your new car. Then submit!
This process is a great way to prequalify for an auto loan, so you will save time at the dealership while buying your car.
The Pros and Cons of GM Financial
As with any auto loan lender, some pros and cons may help you make a better decision about their company.
Pros:
Available in all 50 states: GM Financial is available in all 50 states plus Washington D.C. They are a global company, so there are also some countries where they provide lending options for buying cars.
Funding in 7 business days: You could have your money in as little as seven business days. While it's not instant, it allows you to start your new car journey soon, rather than waiting months for your loan to be approved.
Prequalify online: It's easy to prequalify online, making shopping for a new car easier because you already know what you're qualified for.
GM Financial specializes in GM vehicles: This niche means they're more knowledgeable about what they can offer you and how they can get you into the exact car you want based on your qualifications.
Leases available: If you would rather lease a car than buy one, there are financing options available through GM Financial for that, too.
Solutions for personal and business: Businesses can use GM Financial as well, which is a convenient option for leasing fleet vehicles or providing company cars to employees.
Cons:
Prepayment fee: If you would like to pay off your loan early, there is a hefty prepayment fee for that. It's tough to be penalized for making wise financial decisions and getting your loan paid off early. Other loan companies don't do this.
Maximum term of 72 months: You can only take out a loan for up to 72 months. Other companies provide 84-month options.
Only available for purchase from dealerships: If you find a car you want to finance that's not at an approved dealership, you won't be able to use GM Financial. This company restricts where you can buy your car to GM dealerships only.
Only for new vehicles: You can't use GM Financial for used cars. It's only available for people purchasing brand new cars through the dealership.
Not many online resources: A lot of lenders will give you the tools you need to manage your loan online. Unfortunately, GM Financial doesn't have the tools online for you to do what you need very quickly.
Poor customer service: Every experience is different, but there are a lot of reviews online that claim GM Financial doesn't have excellent customer service.
Prequalifying negatively affects your credit: Many companies allow you to get prequalified by making a soft inquiry on your credit score. That means it won't hurt your credit until you find the car you want and begin the loan process. GM Financial will hurt your credit score solely for prequalifying.
How Much Can You Borrow at GM Financial?

With GM Financial, you can borrow anywhere from $7,500 to $125,000. That's a broader range than a lot of other lenders.
The amount you qualify for depends on credentials like your income and your credit score, as well as how long of a loan term you want.
A higher income, better credit scores, and longer loan terms allow for more significant loan amounts.
But larger loan amounts and longer terms also have an impact on your interest rate and could increase or decrease your APR based on these factors.
What Is the APR With GM Financial?
GM Financial offers APR from 1.9% to 19.9%. Your APR primarily depends on your credit score, but your loan amount and term can affect these rates as well.
What Fees Does GM Financial Charge?
GM Financial charges a few different fees like a loan origination fee, a late payment penalty, and a prepayment fee.
They will charge a fee upfront to generate and implement your loan, which is relatively common among lenders.
If you pay your monthly payment late, there will be a late fee associated with that, which is also very common. You will be hard-pressed to find any lender that doesn't charge a late fee for late payments.
If you decide to pay your loan off early, they will charge a prepayment fee. This fee is meant to compensate GM Financial for the interest they are missing out on for the remaining life of your loan.
Is GM Financial the Best Choice For You?
Consider whether or not you want to pay off your loan early. If you want to avoid a prepayment fee, don't go this route. It's also not a great financing option for people who are looking for used cars.
You can only buy brand new cars from a GM dealership with GM Financial. However, if you'd like to get prequalified to make purchasing a new car at the dealership easy, then it's a great option.
If you are looking for a loan amount of $7,500 to $125,000, GM Financial may be right for you. You also must have a credit score of 550-850. Businesses can take advantage of these offers as well.
Related posts
Subscribe
* You will receive the latest news and updates on your favorite celebrities!