Pyramid Credit Repair Review for 2020
Cashback, 3 years ago
0
10 min

read
908
Is your credit score lower than you need it to be, weighed down by a bunch of negative information that you know is not correct? Or do you even have poor credit, and need to improve it as quickly as possible?
If you do, it's time to call in a professional credit repair service. Pyramid Credit Repair is one of the best in the business.
When you sign up, you'll be assigned a dedicated Personal Account Manager who will work with you through the entire process. And they have a whole team of credit dispute experts, who know exactly how to get those errors off your credit reports.
You could try to fix the errors yourself, but if you've never done it before – and you have little understanding of how the process works – it will be quicker and less expensive to bring in professional help.
After all, credit errors and bad credit are already costing you money. The sooner you get those credit problems fixed, the better your entire financial position will be. Pyramid Credit Repair can help you make that happen.
Table of Contents:
About Pyramid Credit Repair
How Pyramid Credit Repair Works
Features & Benefits
How To Sign Up
Pros & Cons
Personal Account Manager
Is Pyramid Credit Repair for You?
About Pyramid Credit Repair
As the name implies, Pyramid Credit Repair is a credit repair service. The company began operations in 2012 and is based in Wilmington, Delaware. It employs 273 people.
The company uses a combination of dedicated employee participation, and proprietary technology to empower consumers to take control of their finances, and improve their credit scores.
They work directly with creditors and credit bureaus until your credit problems have been resolved. They also check back after a short interval, to make sure changes made in your credit profile are still in place.
Company Ratings
Pyramid Credit Repair is not rated by the Better Business Bureau, but it does have of five stars out of five by Trustpilot, with a rating of "9" (with 10 being the highest rating).
Learn More about Pyramid Credit Repair
How Pyramid Credit Repair Works
When you work with Pyramid Credit Repair, the process starts with a free assessment of your credit situation. That will require a recent copy of your credit report.
You will be required to get your three-bureau credit report which can be obtained for free.
A Pyramid Credit Repair specialist will walk you through the process of obtaining the report.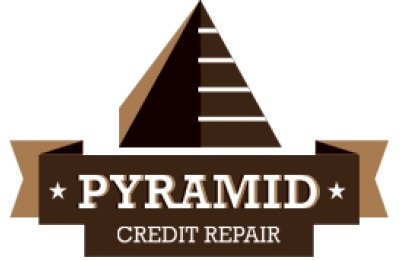 3 Bureau Credit Report
Why a three-bureau credit report? This is a necessary step since not all credit information appears on each bureau's report.
For example, there could be a collection reported on the Experian credit report that does not appear on the TransUnion and Equifax reports. A comprehensive credit repair can only take place when the information from all three credit bureaus is available.
IMPORTANT: One of the reasons it's requested that you order your credit report is because if you do, your credit score won't be hurt. If the company orders it, your score will take a small hit for an inquiry. That's the last thing you need if you already have a low credit score.
3-Step Credit Repair Process
Pyramid Credit Repair works with a three-step credit repair process as follows:
One of the most important features of the Pyramid Credit Repair service is that you are assigned a knowledgeable Personal Account Manager who works with you through the entire process.
The company offers a well-established database and a reliable platform to create a custom-designed plan to help you work through your credit problems.
Expert Staff
Apart from your Personal Account Manager, you'll also have the company's credit team and dispute experts. Their job is to dispute credit report errors, and they do this by using a rigorous process to both scrutinize and hold credit sources accountable for those errors.
This is important because credit reports routinely contain errors. If not disputed, they can stay on your credit report for years, and drag down your credit score.
This is because credit errors seem most commonly to be negative in nature. If you don't have experience getting those errors corrected yourself, it can seem impossible. But when you have a professional team working for you, the process is not only easier, but also much more likely to succeed.
Personal Dashboard
During the entire process, you'll have access to a personal dashboard. All information regarding your credit repair situation will be available on that dashboard. It's also where you can communicate with company personnel, and view results of your case. You'll also have access to the credit score tracker and an analysis of your situation.
When you have your one-on-one Risk-Free Assessment with your Personal Account Manager, it will be determined if the program is the right strategy for you. Pyramid Credit Repair wants to make that determination even before any payment information is provided.
How Long Does the Credit Repair Process Take?
The company reports you will typically see results in as little as 45 to 60 days. Though it is possible the process will take longer, based on the specifics of your credit situation. The company's goal is to take as little time as possible, and they believe their new system makes it happen faster than competitors can. Due to credit bureau restrictions, it will take at least 30 days before you will begin to see results.
Features and Benefits of Pyramid
100% Money-Back Guarantee
Pyramid Credit Repair offers a 90-day moneyback guarantee for their service if they fail to update inaccurate, obsolete, erroneous, incomplete and unverifiable information on your credit reports. Ninety days should be sufficient time to determine if the credit repair program is moving in the right direction, even if it's not fully completed.
To take advantage of the guarantee, you'll need to provide a copy of the results showing the information has not been corrected. Refunds will typically be issued within 5 to 7 business days of your request and will be applied to the credit card the monthly fees were charged.
Analysis and Budgeting Tools
Includes debt payment calculators to help you better manage your personal finances. Pyramid Credit Repair isn't only interested in helping you improve your credit score. They also give you the tools you need to improve your credit and finances in the future.
Customer Service
Pyramid Credit Repair can be reached by phone, Monday through Friday, from 12:00 pm to 9:00 pm, Eastern time. Though the hours of operation are unusual, they will work well for those who are not able to call from work during regular business hours, and may need to call from home in the evening.
Platform Security
Pyramid Credit Repair will not share your credit information unless you provide explicit consent. They also do not provide information to law enforcement unless they are presented with a valid subpoena or court order. And the protection of your credit history information is protected from being shared under federal law.
The website itself meets or exceeds the requirements of the Web Content Accessibility Guidelines 2.0 Level AA (WCAG 2.0 AA). The company also engages the services of The Bureau of Internet Accessibility to conduct accessibility audits of the website and make recommendations to maintain compliance.
Pricing and Fees
The fee for the service is $99 per month for individuals and $198 for couples. However, there is a 50% discount on the first month's service for couples. Fees are billed for services previously rendered and performed. The first payment is scheduled for 5 to 15 days after your free credit assessment. That payment will be collected after Pyramid Credit Repair performs work on your account.
Service Cancellation
You can cancel your participation in the program anytime you want. Since Pyramid Credit Repair works on a "pay-as-you-go" basis, you're not locked into paying for services that haven't been provided.
How to Sign up with Pyramid Credit Repair
You can sign up for the service either through the website or by calling the toll-free phone number. You'll provide certain information, then an expert representative will contact you with an analysis of your credit report. The representative will also discuss your situation with you, to get a better idea of your credit situation and goals.
Once again, no fees will be collected up front. The determination will be made to proceed with the credit repair service – or not – during your free consultation. If you decide to go forward, you'll be required to put a credit card on file. You will then be billed 5 to 15 days later.
Sign Up with Pyramid Credit Repair
Pros & Cons
Pros:
Free consultation with a credit expert to determine if the credit repair service will be in your best interest (it may not be!).
No upfront fees. This is one of the main advantages of using Pyramid Credit Repair. Many credit repair services charge an upfront fee before they've even done any work in repairing your credit.
100% Money Back Guarantee enables you to get a refund of all fees paid for the first 90 days if you are not satisfied with the direction the credit repair service is going.
Subsequent payments are collected after additional work has been performed.
The extended customer service hours will enable you to call from home in the evening, rather than from work during the business day. No one wants to discuss their credit problems in front of co-workers – especially the ones you don't get along with!
Cons:
Credit repair services, including Pyramid Credit Repair, are not a credit cure-all. They can challenge and remove negative information that's reported in error. But they can't remove accurate information. This may include late payments, judgments, or collections that you actually caused.
You will pay a fee for the service, which depending on your financial situation, may be difficult to manage. After all, no one works for free!
You may be required to supply supporting documentation as evidence that information contained on your credit report is in error. But this requirement is typical of all credit repair services, and something you would need to do even if you went the do-it-yourself route.
Dedicated Personal Account Manager
Pyramid Credit Repair spares you the complication and discomfort of the credit repair process. You'll have the advantage of being appointed a dedicated Personal Account Manager, as well as having the benefit of a team of credit dispute experts. That expertise will also make the entire process go much faster than it would if you tried to do it on your own.
You will of course pay a fee for the service. But you may be paying an even higher price by having poor credit and being denied access to new credit. Paying a few hundred dollars to a reputable credit repair service to fix those problems is a true investment in your future. Meanwhile, you'll have the security of the 90-day Money Back Guarantee if the service fails to produce results. That's an incentive for Pyramid Credit repair to get the job done, and do it as well as possible.
If you'd like more information, or if you'd like to sign up for the service, visit the Pyramid Credit Repair website.
Will Pyramid Credit Repair Work For You?
Pyramid Credit Repair, or any credit repair service for that matter, will work best for those who have little understanding of the credit reporting system, or the proper channels for disputing erroneous information or working with the three major credit bureaus. The entire credit reporting process has become incredibly complicated, and working your way through it has truly become a specialization often requiring professional assistance,
It's also a logical choice if you're not comfortable with the often tense negotiating process that's part of credit repair. After all, creditors aren't usually willing to fix mistakes they've made. It's a "guilty until proven innocent" process, in which you need to prove your innocence. That's usually best done by a third-party.
Related posts
Subscribe
* You will receive the latest news and updates on your favorite celebrities!