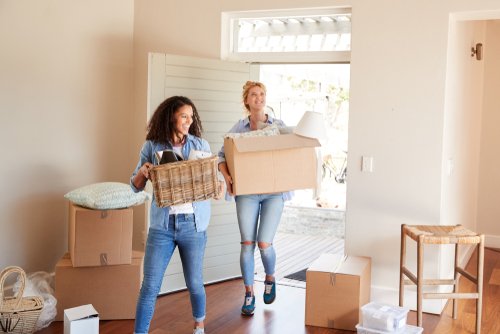 New American Funding Review 2020
Cashback, 3 years ago
0
5 min

read
912
With the extreme cautiousness that the mortgage industry engaged in the aftermath of the 2008 mortgage crisis, it might seem challenging to find a lender willing to do things a little differently.
Of course, nobody expects lenders to offer the super-risky mortgage packages again. But it can be helpful to find a lender willing to explore alternative forms of credit and verification.
New American Funding is a lender that uses traditional manual underwriting, which allows it to explore alternative credit more thoroughly than the standard computer models that much of the industry uses.
And New American offers a wide variety of excellent mortgage products to fit almost any needs.
Table of Contents:
Mortgage Options
Qualifications
Is New American Funding a Good Lender?
Pros & Cons
New American Funding Mortgage Options
New American offers a wide variety of mortgage products fit for almost any borrower's unique situation.
Whether you're looking for a conventional fixed-rate mortgage with a regular term, or a home equity line of credit for a new home-renovation product, New American Funding likely has a product that will work.
It also hosts several programs designed to assist customers who don't have the typical 20 percent down payment that most mortgage providers demand.
Conventional Fixed Rate
The fixed-rate loan is the standard of most mortgage programs. Terms run from 10 to 30 years, with a rigid interest rate that remains the same throughout the course of your loan.
A conventional fixed-rate loan is what most people think of when they think of a mortgage, and it usually requires several formal verifications to close.
Adjustable-Rate Mortgage (ARM)
ARM loans offer customers a low starting interest rate that can increase periodically over time. These loans serve up an excellent option for people who intend to refinance to a fixed rate before the interest adjusts.
ARM loans usually start with a lower interest rate, allowing a borrower to get into a home they might not be able to afford otherwise. This type of loan is perfect for people who are working on improving their financial situations, allowing them to prove their ability to pay on time, then refinance.
Jumbo Loans
Jumbo Loans are loans with a more sizeable total balance than conventional loans. They're designed primarily for customers with a higher income who need a more substantial loan to secure their property.
They often come with much stricter requirements to verify and underwrite due to the more significant risk on the bank's behalf.
Reduced Down Payment Options
New American Funding offers a variety of traditional reduced down-payment mortgage options, including the following loan programs:
VA (Veterans Administration)
FHA (Federal Housing Administration)
USDA (U.S. Department of Agriculture)
These programs help buyers get into houses with a lower down payment than typically required. New American works with these agencies, but also offers help to borrowers looking for state and local assistance with their down payments.
Home Equity Line of Credit (HELOC)
Like many other mortgage lenders, New American Funding offers Home Equity loans. HELOCs are loan programs that create a pool of credit out of the equity you have in your house, a little like opening a checking account matching your home's value.
They're an excellent option for renovation projects with fluctuating costs, as you withdraw funds to pay for renovation stages throughout the process.
Reverse Mortgages
One unique product that New American offers that you won't see everywhere else is the Reverse Mortgage. Like the HELOC, Reverse mortgages use the equity of your home to give you a monthly payment out of the value of your investment.
These products are terrific for retirees, providing them with a monthly income from their property.
Compare Rates
New American Funding Qualifications
Many mortgage lenders use an automated underwriting process to verify financial information and determine whether a prospective borrower qualifies for a particular loan.
This automation can streamline the process and make it much faster to close, but it can also inject some rigidity into the process. Some customers may be able to present documentation that falls outside of the capabilities of the automated underwriting systems.
New American carries out all of its underwritings manually, so a person – not a computer – will review your documentation personally. A manual underwrite gives the lender flexibility that automated systems don't offer. Prospective borrowers may be able to qualify based on alternative information.
Other than the manual underwriting, most of New American's requirements don't deviate from standard mortgage qualifications. Customers will still need a down payment, income verification, credit approval, and documentation to support their initial application. And they can submit their documents online, which makes the process quicker.
New American Funding representatives say they close the majority of their loans within 30 days. What's more, they don't charge a fee for an interest-rate lock, which is an attractive feature if you're trying to take advantage of a specific rate before it fluctuates with the market.
Getting started is as easy as visiting the New American Funding website and choosing which mortgage option is right for you.
Is New American Funding a Good Lender?
New American Funding was founded in 2003, five years before the mortgage crisis. Where many other lenders collapsed in the aftermath of that debacle, New American survived by remaining disciplined and conscientious throughout.
The fact that the company is still operating more than a decade later indicates that New American values good practices and is fit to weather the fickle mortgage market.
New American's willingness and adherence to manual underwriting is another nice perk of its business practices. It might take slightly longer to close, but it affords customers flexibility within their documentation.
New American also offers services and applications in both English and Spanish, opening the market to more customers, including ones who are otherwise underserved in the housing market. These language services show commitment to customer service that is sometimes lacking with larger lenders.
Pros and Cons
Pros
Online Document Portal: New American has a single portal for submitting documentation and checking rates, which streamlines the underwriting process.
Manual Underwrite: Personal underwriters can review alternative documentation for income and employment verification.
Many offered products: New American provides a wide assortment of loan programs, more than some better-known lenders.
Cons
Availability: New American Funding is available in every state except New York and Hawaii.
Related posts
Subscribe
* You will receive the latest news and updates on your favorite celebrities!