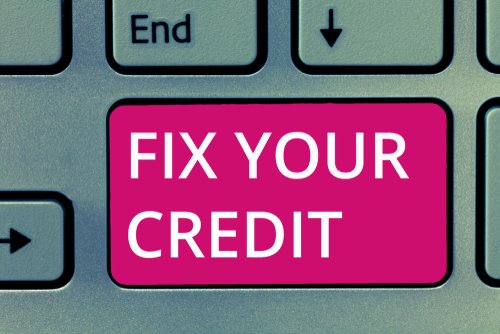 DIY Credit Repair in 5 Easy Steps
Cashback, 3 years ago
0
4 min

read
669
Having bad credit can be a difficult experience.
In addition to getting loan applications declined, not having a credit card, unable to get a mortgage, it just downright feels bad.
The answer is DIY credit repair.
Fortunately, when you have bad credit you have a few options. It is quite possible to improve your credit score, it just takes some time and effort.
In this article, I'm going to outline step-by-step how to get started with improving your credit score.
5 Steps To DIY Credit Repair
Repairing your credit can be easy if you follow these 5 easy steps.
I developed these steps after helping thousands of people improve their credit over the past 7 years. This is hands down the quickest way to repair your own credit.
If you have any questions at all about any of my steps, feel free to ask me. I try to respond as quickly as I can!
Step 1. Start Monitoring Your Credit Score Monthly
Don't, don't, don't skip this step! It's time to start paying attention to your credit score!
This is extremely important as the first step because the next steps will cause your credit score to drastically change over the next few months and you need to be watching your progress.
In fact, you will probably benefit from signing up with a credit monitoring service.
The reason being is because throughout the credit improvement process, your score is going to be constantly changing and you'll need to keep an eye on it.
I recommend monitoring your credit with the Transunion 3-Bureau credit monitoring service.
Learn More about Transunion
Step 2. Rebuild Your Credit with a Secured Credit Card
The only, only way to rebuild credit is to get new, good credit.
Since you still have bad credit, you won't be able to get approved for a major unsecured credit card (yet). You can still get approved for a secured credit card and it will be reported as positive credit on your credit report.
A secured card is like an unsecured card in that it will report to the credit bureaus.
The difference is that you have to secure the card by depositing the credit limit into an account.
Once you have done this, check your credit report (this is where the credit monitoring is important) to see how your score has changed.
Once you've had a secured credit card for a few months and build a positive credit history, you can start looking at applying for an unsecured card and this will further improve your credit score.
I recommend opening a Primor Mastercard Secured Credit Card to get started with.
Learn More about the Primor Card
Step 3. Start Paying Down Your Debt
Now that you're building new good credit, the next step is to pay down your debt. Start with your smallest debts and move to the bigger debts.
This makes it much easier to stick with it. The less debt you have (particularly credit card debt), the better your credit score will be.
Also, you should consider debt relief.
Step 4. Remove Negative Items On Your Credit Report
With your credit report in hand, you need to go through and identify the negative entries. These negative items could include the following things.
Late payments
Collections
Charge offs
Foreclosures
Repossessions
Tax Liens
Bankruptcies
This step is one of the most important, but it's also one of the most difficult steps. You should start by sending your creditors goodwill letters.
Or, if you're the type of person who would rather have a professional handle it and just be done with the whole thing, I suggest you check out Lexington Law Credit Repair. They'll take care of you.
Learn More about Lex Law
Step 5. Apply for a Major Credit Card
Your road to better credit is almost complete. The final step is to apply for a major credit card. This will show lenders you're ready to gain their trust, and it will also improve your credit score.
Well Done!
Related posts
Subscribe
* You will receive the latest news and updates on your favorite celebrities!