Best VA Loan Lenders of 2020
Cashback, 3 years ago
0
17 min

read
908
Interest rates have fallen across the lending spectrum, including mortgages. Earlier this spring mortgage rates reached their lowest point ever. These low rates also apply to the VA home loan program.
If you're eligible for a VA home loan, now is an excellent time to take advantage of these low rates, either to purchase a home with no down payment or to refinance your current mortgage through one of the best VA lenders.
You can apply for a VA mortgage loan through any lender that participates in the VA home loan program. But some lenders originate VA loans only occasionally which means they are only minimally familiar with the guidelines.
For that reason, you should focus your efforts on the mortgage lenders that specialize in VA loans and can make the process as effortless as possible.
The 7 Best VA Loan Lenders
Here are the best VA mortgage lenders:
Veterans United
Veterans First
Quicken Loans
Rocket Mortgage
Navy Federal Credit Union
USAA
PenFed Credit Union
Veterans United Home Loans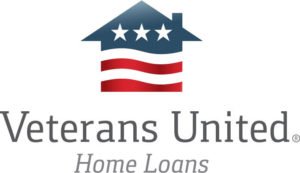 Veterans United Home Loans is the largest VA mortgage lender in the country. This VA loan specialist operates in all 50 states, so you can work with this company no matter where you are stationed or live. You can begin the loan application process either online or by phone.
Veterans United even engages the services of former senior enlisted leaders from each branch of the armed services to help guide you on the specific loan requirements for active duty military personnel.
Veterans United also offers several valuable programs to help manage your home buying experience. This lender can provide direct assistance throughout your home buying process through a network of real estate agents who specialize in working with veterans.
Learn More: Read our full Veterans United Home Loans Review.
Compare Rates
Veterans First Mortgage

Veterans First Mortgage is another major lender specializing in VA loans. But they also offer FHA loans, which can also be important to veterans. If for any reason you're unable to qualify for a VA loan, an FHA mortgage could be a viable Plan B.
Veterans First has been a VA lender since 1985 which gives this lender a wealth of experience dealing with these highly specialized loans.
You'll be assigned a VA loan specialist who will work with you through the entire process — from getting your Certificate of Eligibility to closing on your loan, making the experience more stress-free. You just can't find this level of service with most private lenders.
This kind of support can be especially important to first-time home buyers who need extra guidance with their mortgage applications.
Quicken Loans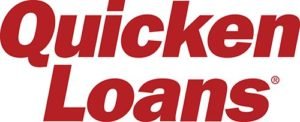 Quicken Loans is the largest mortgage originator in the United States, operating throughout the country. Quicken is not a VA loan specialist but it writes enough home loans to have a lot of experience with the VA loan program.
In addition to providing VA loans, Quicken Loans also offers all other types of mortgages, including conventional, FHA, Jumbo, and USDA loans.
This availability of other loan types may be significant if your military service doesn't qualify for a VA mortgage, or if a VA loan won't fit your mortgage needs. For example, if you need financing for a vacation home or an investment property, you'll need a conventional mortgage. A lender that offers only VA loans may not be able to help you with that kind of purchase.
Quicken Loans also rates very highly for customer service, and has the advantage of servicing the loans it originates. That means you'll be making your payments directly to the same company.
Learn More: Read our full Quicken Loans Review.
Compare Rates
Rocket Mortgage
Rocket Mortgage is part of Quicken Loans, serving as its online mortgage lending arm. Rocket offers all the advantages of Quicken Loans, but adds the convenience of an all-online process.
This means there's no need to meet with a loan officer face-to-face. The entire process can be completed online, including uploading your documents. This can lead to fast approvals and closings within a reduced time frame.
Like Quicken Loans, Rocket Mortgage also originates a lot of VA loans as well as other mortgage types.
Learn More: Read our full Rocket Mortgage Review.
Compare Rates
Navy Federal Credit Union
Unlike the previous four lenders on this list, Navy Federal Credit Union serves only military members which means its mission aligns perfectly with the U.S. Department of Veterans Affairs which regulates the VA home loan program.
You'd have to join Navy Federal before applying for a loan, but service members from any branch qualify for membership. Defense contractors and even some Department of Defense civilian employees can also join.
Once you've joined, you'll have access to some of the lowest rates in the market. And you'll get expert guidance through the borrowing process.
Navy Federal has 15- and 30-year term VA loans. This lender also considers alternative borrowing criteria in case your credit history doesn't hold up. For example, you could get credit for making on-time rent payments for the past few years even if you don't quite meet the minimum credit score. Keep in mind your interest rate would likely increase.
USAA
This military-only association started out as an auto insurance provider and has steadily grown, expanding into banking and mortgages. Naturally, the VA home purchase program fits within USAA's stable of products.
Only active duty military members and veterans can join USAA. While it serves members in all 50 states and stationed around the world, USAA has only a handful of physical offices. You'd access this lender's mortgage products online or over the phone.
USAA does not offer FHA or USDA loans. You also won't find a home equity line of credit. More than half of this financial institutions mortgage loans are backed by the U.S. Department of Veterans Affairs which means you'll be working with a true VA loan specialist.
If you're refinancing a VA home loan in hopes of getting a lower rate, USAA offers an attractive version of the VA streamline (IRRRL) refinance. USAA won't charge an origination fee for this refinance loan.
PenFed Credit Union

PenFed — short for Pentagon Federal — Credit Union also specializes in VA purchase loan options for U.S. military members and veterans.
Like Navy Federal and USAA, you'd need to join PenFed before applying for a loan. But membership has its privileges which include competitive interest rates and a smooth loan process.
PenFed has one of the most open enrollment policies of any military-based credit union. Defense contractors along with active duty service members and veterans from any branch can join PenFed. Civilian employees of the DoD can join. Even volunteers in the American Red Cross can join.
But only military members and veterans can get a VA home loan. Other members can get a home equity line of credit, a jumbo loan for a high balance mortgage, or a conventional loan or refinance.
What Is A VA Loan?
VA loans are a special program created by the United States government and managed by the Department of Veterans Affairs. They exist to help eligible active duty members of the military, as well as veterans, buy safe and affordable housing.
VA lenders help you get a new home loan with no down payment and no private mortgage insurance premiums. We'll explore these benefits in the next section below.
VA purchase loans or refinance loans can go to members from any branch of the military, including the Army, Navy, Air Force, Marines, Coast Guard, the National Guard and the Reserves.
VA loans are not actually made by the Veterans Administration. Instead, the loans are provided by private institutions, like banks and mortgage companies on my list above. Mortgage insurance is provided by the VA which gives the loan program its name.
That mortgage insurance acts as an inducement for lenders to make loans to eligible veterans. The insurance lets lenders worry less about the losses they might sustain from foreclosures, opening the door to more favorable lending terms for veterans.
What Are The Benefits of a VA Loan?
VA loans have many benefits, some of which are unique to this particular loan type:
No down payment requirement: Up to certain very generous loan limits, VA loans offer 100% financing. This is tough to find elsewhere in the mortgage market.
No monthly mortgage insurance (PMI) premium: Both conventional and FHA mortgages require some kind of borrower-paid mortgage insurance. VA loans don't. Instead, you'll pay an upfront mortgage insurance premium that's added to your loan amount and financed over the term of the loan. This will result in a lower monthly house payment than you might otherwise have.
Seller-paid closing costs: VA allows property sellers to pay closing costs equal to as much as 4% of the loan amount/purchase price. Since closing costs typically average between 2% and 4%, you could avoid paying out of pocket for closing costs. In combination with the 0% down payment requirement, VA loans are true 100% financing arrangements.
Interest rates on VA loans are often lower: The rate advantage in this mortgage program may be small — perhaps only 0.125% or 0.25%. But it will still result in slightly lower mortgage payments than would otherwise be the case.
How Do VA Loans Work?
VA loans have several "moving parts. Each is described below:
Loan Types and Terms
VA loans are available in terms ranging from 15 to 30 years. They're also available in both fixed-rate and adjustable-rate mortgages ("ARMs").
As the name implies, a fixed rate mortgage has a fixed interest rate and fixed monthly mortgage payment throughout the term of the loan.
An adjustable rate mortgage will typically come with a fixed rate and fixed monthly payment for the first five years, then adjust each year thereafter. The new rate and payment can be either higher or lower than the initial rate and payment.
But to limit how much borrowers will pay on an ARM, the VA "caps" the loan. With a VA loan, the rate can increase by no more than 1% in any one year, or 5% over the life of the loan.
For example, if your initial rate is 3%, the highest the rate can be after the first adjustment is 4%. Over the life of the loan, the maximum interest rate will be 8% (3% + 5%).
Whether you take a fixed-rate or adjustable-rate mortgage, the loan will be completely paid off at the end of the loan term.
VA Funding Fee
FHA mortgages require mortgage insurance that includes both an upfront fee (that's typically added to your mortgage loan balance), and a monthly premium that's part of your new monthly payment. Conventional mortgages have private mortgage insurance (PMI), which adds a monthly premium to your house payment, but does not require an upfront amount.
The VA imposes a "Funding Fee", which is an upfront charge added to the loan amount and financed over the term of the loan if necessary. There is no monthly mortgage insurance premium.
The purpose of mortgage insurance is to provide assurance to the mortgage lender that at least part of the loan will be reimbursed upon foreclosure.
In the case of VA loans, the Veterans Administration insures 25% of the loan amount. If you default on a $200,000 loan, the VA will pay the lender $50,000. Presumably, the remaining $150,000 will be covered out of the proceeds of the sale of the property.
The amount of the VA Funding Fee will depend on the type of loan, the amount of the down payment made, and whether it's a first time for the subsequent use of your VA eligibility: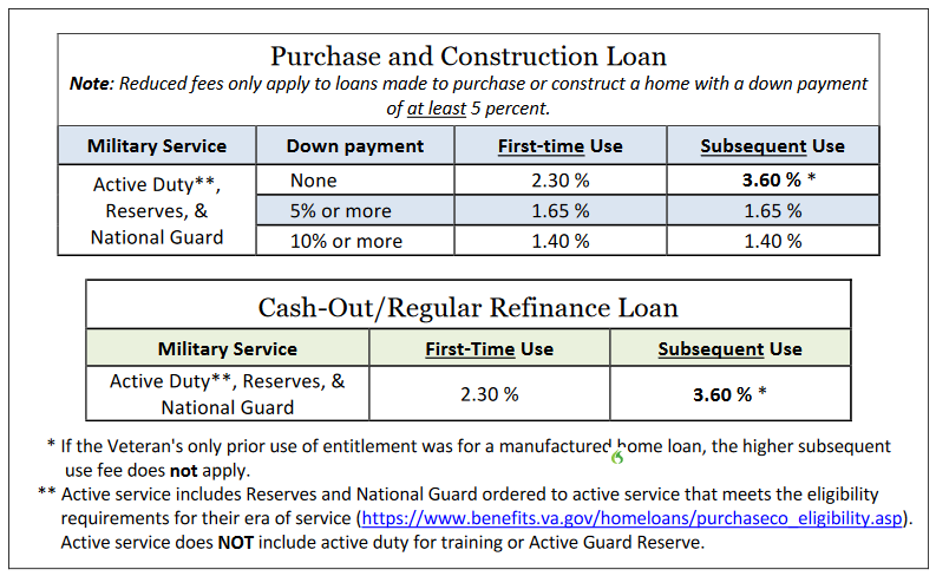 Maximum Loan Amount
Technically speaking, there's no longer a maximum VA loan amount. However, to get 100% financing, the maximum loan amount ranges between $510,400 and $765,600, depending on the county where the property is being purchased.
These limits will apply only to veterans with one or more outstanding VA loans, or to those who have defaulted on a previous VA loan.
But if you still have your full entitlement, and you've never defaulted on a previous VA loan, the loan amount can be as high as a lender is willing to grant. However, if you do exceed those limits, you'll need to come up with 25% of the difference as a down payment.
For example, let's say the property you're purchasing is located in a county with a $600,000 loan limit. You can purchase a property for $800,000, but you'll need to make a $50,000 down payment.
The $50,000 is 25% of the $200,000 that the purchase price will exceed the $600,000 county limit.
Loan amounts in excess of the published county limit are commonly referred to as VA Jumbo loans.
Eligible Property Types
Eligible property types for a VA loan are restricted to 1 to 4 family residential properties that will be owner-occupied either by the veteran or a member of the veteran's immediate family.
Unlike conventional mortgages, VA loans are not available for financing vacation homes for investment properties.
All properties must meet minimum local standards for safety and livability, including proper functioning of the major components of the home.
How to Qualify for a VA Loan
While VA loans are specifically designed for eligible active duty and retired members of the military, each borrower will need to qualify based on his or her own merits. Several factors go into this determination.
Eligibility
Eligibility begins with the Certificate of Eligibility (COE). If you don't have it available, your lender should be able to assist you in obtaining this certificate from the Department of Veterans Affairs. The COE should be available if you were not dishonorably discharged, and you meet the minimum active duty service requirement based on when you served.
You can check the eligibility requirements directly with the Veterans Administration, but below are the most common situations:
You're eligible if you have been on active duty for at least 90 continuous days.
If you served between 1980 and August 1, 1990, you'll need 24 months or at least 181 days on active duty.
Between August 2, 1990 and the present, at least 90 days of active duty, or at least 90 days of your discharge for a hardship, reduction in force, or for convenience of the government, or less than 90 days if your discharge is for a service-connected disability.
Different service requirements apply to earlier time periods.
Credit Score Requirements
VA loans have no stated minimum credit score requirements. However, most lenders impose a minimum FICO credit score requirement of 620. Some will make loans to eligible veterans with lower scores, but will charge a higher interest rate if they do.
Exactly how high the rate will be will depend on your credit report and other details of your overall qualifications.
Debt-to-Income (DTI) Requirements
Generally speaking, VA loans are permitted with a debt-to-income ratio of up to 43%. Debt-to-income ratio (DTI) is calculated by dividing your total fixed monthly debt payments by your stable monthly income.
Fixed monthly payments include your proposed monthly house payment, plus monthly payments for auto loans, student loans, credit cards, child support, alimony, and other recurring payments.
This ratio does not include payments for utilities, insurance premiums (including health insurance), retirement contributions, and other variable or optional monthly costs.
If your overall credit qualification is strong, the lender may permit a debt-to-income ratio of up to 50%, but that will increase the interest rate you'll pay on your loan.
In rare cases, a DTI exceeding 50% may be permitted, but it will result in an even higher interest rate and monthly mortgage payment. The lender may also require strong compensating factors, such as making a down payment, a decrease from your previous house payment, or a large amount of savings after closing.
Cash Requirements
Since VA loans require no down payment up to the county maximum loan limit, and closing costs can be paid by sellers, homebuyers may need no money up front at all.
You may need cash out of pocket if:
the seller refuses to pay your closing costs up to the 4% of the loan amount allowed by the VA.
the purchase price of the property you're buying exceeds the maximum county loan limit, requiring you to come up with a down payment equal to 25% of the excess amount.
In most other situations, you should be able to purchase a home with no cash upfront whatsoever.
Factors Affecting VA Loan Interest Rates
Base interest rates for VA loans are determined by market interest rates. Mortgage rates, in general, are based on the 10-year U.S. Treasury note. That rate serves as a base, and a margin is added to it to compensate the bondholders who ultimately fund the loans.
But apart from the market-driven base rate, there are several factors that will affect the rate you'll pay. Some of those factors were mentioned in the above section, but we'll list them again here:
Loan amount: Loans below $250,000 will include a slight rate increase, as will loans that exceed the local county limit.
Credit history: The rate you see published by any lender will probably be for someone with a credit score of 700 or higher. Lower scores will result in higher rates.
Debt-to-income ratio: A DTI greater than 43% could increase your rate.
The length of your rate lock: The longer your rate lock, the higher your mortgage rate. Normally you lock in a rate with your preapproval which gives you time to shop for a home without worrying about a rate increase.
Lender-paid closing costs: If a seller won't pay some or all your closing costs, your lender may pay them in exchange for a slightly higher interest rate.
The term of your loan: 30-year loans have higher rates than 15-year loans. The 15-year option requires higher monthly mortgage payments but costs less in total interest paid throughout the life of the loan.
Are VA Loan Rates Different Between Purchases and Refinances?
The VA offers a unique refinance program referred to as the Interest Rate Reduction Refinance Loan, or simply IRRRL. The advantage with this loan is that it requires less documentation.
For example, since you're replacing an existing VA loan on which you are already making payments, the lender won't verify your credit, employment or income. They may not even perform a property appraisal.
Because of the simplicity of IRRRLs, rates are often lower than other loan types, including VA loans for purchases. What's more, the VA  Funding Fee on IRRRLs is just 0.5%, which is lower than the fee for other VA loan types. And since documentation is extremely limited, you can complete an IRRRL in a lot less time than it will take for a purchase mortgage.
A critical element with an IRRRL is that you cannot use it for a cash-out refinance that would tap your home's equity. You're simply replacing the existing VA mortgage with a new one with a lower interest rate. However, the program does allow you to add loan closing costs to the new loan amount.
To do an IRRRL you must be refinancing an existing VA mortgage. Conventional and FHA mortgages are not allowed. You also cannot have more than one 30-day late payment on your current mortgage within the past year. The rate on the new loan must be lower than your current rate, unless you are refinancing from an ARM to a fixed-rate loan. The property must also continue to be your primary residence.
What if you want an actual cash out refinance? To get cash out of your home's equity you'd need a conventional or FHA loan. You could also get a home equity line of credit from a traditional bank or credit union to access your stored up home value.
Is A VA Loan Best For You?
VA loans are one of the very best mortgage types available. If you're an eligible veteran or active duty member of the military, you should absolutely take advantage of this program for your home financing needs. Get your pre-approval from a qualified VA lender today to start your mortgage process.
Related posts
Subscribe
* You will receive the latest news and updates on your favorite celebrities!